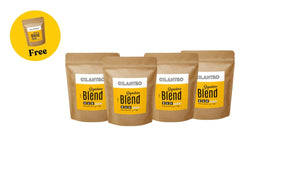 An Arabica blend from the high plains of Brazil and Central America with a touch of Robusta India Parchment Kaapi Royal Beans, grown at an altitude of 800-1200 meters in plantations sheltered by the Karnataka mountains. Mouthfeel is rich and velvety with subtle hints of hazelnut and gianduja.
Medium roasted in North Italy - delivering a balanced taste every cup.
1kg will make around 140 single Espressos or 70 Americanos.