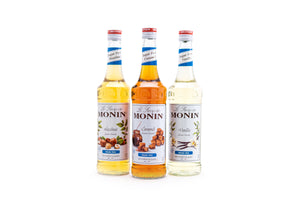 Made with an exclusive blend of erythritol and 
sucralose for a guilt-free, no aftertaste indulgence.
It's time to get the "skinny" on your sugar-free options! Monin Sugar Free Syrups are the ideal way to add delectable flavor without sugar or calories* to beverage or culinary applications.
Monin syrup is not only great FOR COFFEE but also for SHAKES, AND COCKTAILS! 
Vanilla syrup has a distinctive and sweet vanilla extract aroma and smooth, custard-like vanilla flavor derived from select Madagascar vanilla beans. Perfect for Vanilla Latte and Vanilla Cappuccinos!
Caramel syrup adds the rich, sweet, and buttery smoothness of caramel to your favorite hot or cold coffee beverages, milkshakes. Perfect for Caramel Macchiato, Salted Caramel Cream Coffee and Caramel Latte!
Hazelnut syrup introduces the nutty taste of caramelized hazelnut - the perfect pairing for coffee. Perfect for Nutella Hazelnut Coffee, Hazelnut Cappuccino and Ice Hazelnut Coffee!
The syrup is allergen-free, dairy-free, gluten-free, Halal, Kosher and contains no artificial ingredients. It is also non-GMO and vegan.