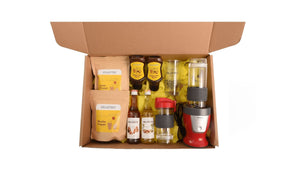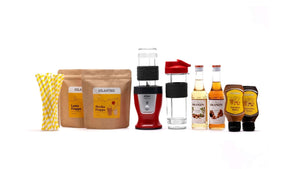 This kit includes: 
Arzum Bullet Blender

Cilantro Doodled Glass Cup

2 Bags of 500g Frappe Powder

(Latte or Mocha)

2 Bottles of 250ml Monin Syrup (Caramel or Hazelnut)
2 Bottles of 250g Cilantro Signature Sauce (Caramel or Chocolate)
25 Paper Straws

This kit is for creative Frappe enjoyers that never stop crafting new drinks for themselves and their loved ones!
We know summer had you sweating and quarantine had you bored, but Cilantro's Specialist Frappe Kit to the rescue! We've tailored our Frappe Recipes to give you a Frappe Experience at home identical to the one you enjoy at our stores.
Arzum Bullet Blender
Consistency is key to your enjoyable drink! This is why we included a powerful 300W bullet blender by Arzum designed to guarantee store-like consistency and equipped with anti-slip features for maximum safety.
Cilantro's Doodled Glass Cup
Your creative Frappes need an appealing cup to showcase your creation. This is why we opted for a high-quality glass cup with unique doodles to give it a modern look and offer you an uncompromised drinking experience.
500g Cilantro Frappe Powder (Latte or Mocha)
At the center of your Frappe stands the Frappe Powder. Tweaked to give you the best results at home, you can either opt for the classic Latte version or the more chocolate-y Mocha Frappe Powder, if you have a sweet tooth like us.
500g will make 11 Frappes.
250ml Flavored Syrups (Caramel or Hazelnut) 
Monin syrup is not only great FOR COFFEE but also for SHAKES, AND COCKTAILS! 
Caramel syrup adds the rich, sweet, and buttery smoothness of caramel to your favorite hot or cold coffee beverages, milkshakes. Perfect for Caramel Macchiato, Salted Caramel Cream Coffee and Caramel Latte!
Hazelnut syrup introduces the nutty taste of caramelized hazelnut - the perfect pairing for coffee. Perfect for Nutella Hazelnut Coffee or Ice Hazelnut Coffee!
The syrup is allergen-free, dairy-free, gluten-free, Halal, Kosher and contains no artificial ingredients. It is also non-GMO and vegan. 
250g Cilantro Signature Sauce (Caramel & Chocolate)
The saying goes: the eye eats before the mouth. This is why garnishing your Frappe is of utmost importance. The secret sauce for that? Our in-house Caramel and Chocolate sauces, which combine perfect taste and consistency.
25 Paper Straws
Staying true to our eco-friendly values, we have included 25 paper straws so you can enjoy our Frappes just like you do in our stores.