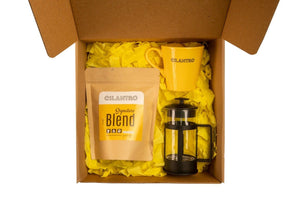 Kit includes:
French Press Machine 
250g of Cilantro Coffee Beans 
Ceramic Mug 
This kit guarantees you a perfect cup of coffee every time!
French Press
Unlike other brew methods, the French Press gives you absolute control over the infusion time. In fact, you can expect to get the same barista-quality flavors without ever having to leave your kitchen!
250g of Cilantro Coffee Beans
An Arabica blend from the high plains of Brazil and Central America with a touch of Robusta India Parchment Kaapi Royal Beans, grown at an altitude of 800-1200 meters in plantations sheltered by the Karnataka mountains. Mouthfeel is rich and velvety with subtle hints of hazelnut and gianduja. Medium roasted in North Italy - delivering a balanced taste every cup.
250g will make around 35 single Espressos or 17 Americanos.
Ceramic Mug 
For ideal flavor, ceramic is always the best choice. Unlike plastics and other common mug materials, ceramic neither absorbs nor imparts flavors, leaving coffee to taste just as it should - sensational!