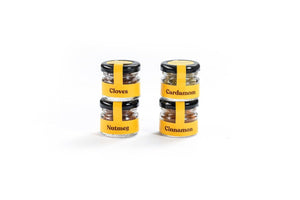 Design and create the perfect blend of Turkish coffee at the comfort of your home. With our fresh spice pack, you can prepare your cup with the precise taste that you need. 
Spices include cinnamon, cardamom, cloves, and nutmeg (قرنفل ،قرفة، حبهان، جوزة الطيب). Mix and match, and explore endless tastes with the diverse set of spices available!
Plain light roast is recommended with the Spice pack.
Pack Weight: 15 grams/jar